City with one of the most beautiful landscapes in Latvia, it's called "Latvian Switzerland". Sigulda is popular among Riga's citizens as well as among tourists. It is located 53 km from Riga. In summer, when the weather is good, in Sigulda gather those, who enjoy extreme and active leisure. But in autumn there are no such people, who wouldn't visit the autumn park around Turaides castle. In winter city turns to main Latvian ski resort – here are located fully equipped skiing, slalom and sledge tracks.
Extra information
Tourist information center: Valdemara 1a, Phone: +371 67 971 335, info@sigulda.lv
How to reach
By train every hour. Schedule on railway website Travel time - 1h 10min.
By bus every hour. Schedule on bus station website. Travel time - 1 hour.
By car. Travel time - 50 min.
Turaida castle is one of the main Latvian sights. It was built in 13th century by Teutonic knights. Today it's only groundwork and piece of wall that left from it. The rest of the parts were reconstructed. Castle is surrounded by the beautiful park and if you go up by the climb the narrow spiral staircase to the observation tower, you will see a breathtaking view on the river's Gaya valley. In the season of gold autumn almost every Latvian resident visit this place.
Hotels
3-star hotel Pils (castle) is situated in the heart of Sigulda. All rooms have CCTV, conditioner, mini bar and telephone. Breakfast is included to the bill.
Gūtmaņala (Goodman's Cave)
The biggest and the most popular cave in Latvia. Here flows a creek with clean, drinkable water. With this place is associated a romantic legend about Turaida Rose.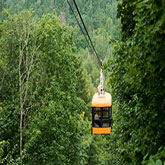 An alternative view on the scenic Gaya's valley is from the cableway at 40 meters height. For those, who love extreme, there is bungee-jumping out of the cable car. It is the only cableway in Baltic countries.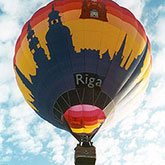 Balloon flight would be on the most unforgettable and romantic voyages. And it's possible to fly in any season. Length of flight over the Gaya's valley is 10-20 km (1-4 h) and height can reach 1000 meters.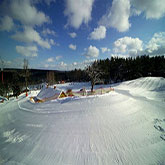 In the park there are extreme rides, like zorbing or flying chair, as well as entertainment for kids. Also here you can rent bicycles and boats. In winter here are opened 2 fully equipped ski tracks (200 meters).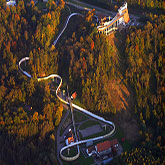 Overall track's length is 1420 m and twists number is 16. Her you can ride bobs and vuchko, reaching speed up to 125 km / h. It's where the trainings of Latvian Olympic team and world-class luger's competition took place.
<!--
google_ad_client = "ca-pub-1105019938261223";
/* Баннер 728х90 посередине страницы */
google_ad_slot = "8234982951";
google_ad_width = 728;
google_ad_height = 90;
//-->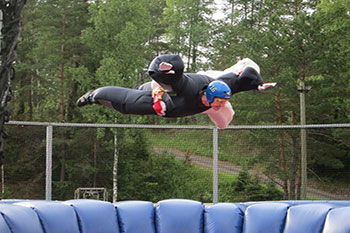 Aerodium
Experience a real hover is possible in the vertical wind tunnel "Aerodium". First time this tunnel was showed in 2008 at the Beijing Olympics and became a big sensation. His attraction doesn't require any athletic skills – all you need is a physical health and wishing to fly!
In adventure parks you can complete routs with obstacles of many different levels, from children's to sportsmen's. At the beginning, you will be provided with tutorial and safety equipment, so no preparation is required. The most popular parks are "Mezakakis" (wild cat) with 6 different levels and "Tarzan", where also is luge track. Adventure parks are the best ways of getting joy and adrenaline.