Ventspils – one of the most rapidly developing cities in the country. During the last five-ten years Ventspils has become one of the most popular tourist destinations in Latvia. Being a major industrial port, the city invests transit revenues into the tourism infrastructure. That's why it's sometimes called "Latvian Dubai". Here are a lot of modern recreation centers and different tourism objects, which are equipped with the latest technologies.
In Ventspils even exist a s/c currency – vents, which is that is accepted for payment in tourism facilities.
Extra information
Tourist information: Darza iela 6, Phone: +371 362 22 63, tourism@ventspils.gov.lv
How to reach Ventspils:
By bus Riga - Ventspils, every hour. Travel time - 3 hours. Schedule on bus station website.
By car - travel time 2-3 h.
In certain seasons is working ferry Ventspils - Saaremaa (Estonia).
Livonian order built the castle in 13th century. One of the rare buildings of the time that remained almost unchanged to the present day. Today here is situated museum of history; its exposures are equipped with the latest museum technologies. In the castle yard you can try archery, here are often organized different events.
Hotels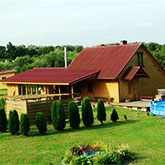 Hotels, guest houses, apartments and other accommodation options in Ventspils.
Here are two radio telescopes, which were built IN Soviet times. One of them is the eight largest in the world; its diameter is 32 m. You can visit the center with excursion.
The artificial mountain (50 m) is named after the hat of the long-term mayor of the Ventspils. Here is a ski track of length 180 m, slope track, Snowboard Park and kids slide. You can learn skiing using the instructors.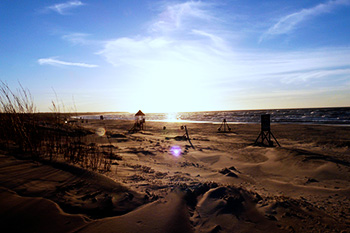 The Blue Flag Beach
The Blue Flag Beach (certificate of EU criteria conformity) is claimed to the one of the best in Latvia. You can stroll down to the southern breakwater where is an operating beacon, whose light is seen at a distance of 23 km. However, sea here is cooler than in Riga Bay (Jurmala).
To pass the route with obstacles, jump on the trampolines, ride on Kicking swings, summer slide or in the zorb is possible in the Ventspils adventure park, which is opened all year round.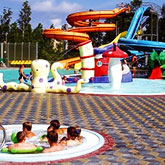 The aquapark has different slides, derricks, sauna and various attractions for children. It's opened from May to September.
Here are football, basketball and ice halls, stadium, skate-park and swimming pool. You can stay in a hotel, that is situated in the complex territory.
Deer Garden
You can look at deer and boars from viewing tower (6,5 m). Near are places for rest.
Children's Town
In children's town are equipped modern attractions. They are divided for several age groups. Each group represents some world's city; to see, to which, see on the globe (1.5 m) at the entrance.
Ethnographic museum occupies part of the seaside park. Here is the biggest in Baltic collection of anchors, playground and small narrow-gauge road on which you can ride on the real sample train of 1916.