Latgale is a historical region in eastern Latvia on the border with Russia and Belarus. Here lives about a third of country population and they have its own language. Also the majority of population in Latgale are Russians.
In Latgale is the second largest city in Latvia – Daugavpils, quite big city Rezekne and smaller towns – Ludza, Balvi, Kraslava. Latgale is called "land of blue lakes" as here is the biggest lake in Latvia – Lubanas (82,1 sq. m) and the deepest lake Dridzis (max. depth 63 m), that also is the deepest in Baltic.
Extra information
Tourist information center:
Ludza:: Baznicas 42, Phone: +371 65 707 203, +371 29 467 925, kondrate@one.lv, tic@ludza.lv
Balvi:: Berzpils 1a, Phone: +371 64 522 356, +371 29 119 786, tic@balvi.gov.lv
Rezekne:: Atbrivosanas aleja 98, hotel "Latgale", room 110, Phone: +371 64 605 005, +371 26 337 449, tic@rezekne.lv
Kraslava:: Brivibas 13, Phone: +371 65 622 201, +371 26 395 176, +371 26 487 763, факс +371 65 622 266, tic@kraslava.lv
How to reach:
You can reach Rezekne by train Riga-Moscow as well as by train to Zilupe (you can reach a Ludza station by it). Timetable is on Latvian railway website.
Others Latgale towns are reachable by bus from Riga, timetable is on bus station website. Travel time: to Ludza - 4h 20min,to Balvi - 4 hours, to Kraslava - 4h 30min, to Rezekne - 3h 50min.
By car. Travel time: to Rezekne - 3h 10min, to Ludza - 3h 25min, to Balvi - 2h 45min, to Kraslava - 3h 15min.
Rezekne
Rezekne – town on seven hills one of region culture centers. In town are regularly held song festivals, every 2 years – music festival of Latgale TV. Because of proximity of three countries, Rezekne was given the status of a special economic zone.
Ludza
Ludza is located in eastern Latvia, in 271 km from Riga. Close to town is Latvian border with Russia and Belarus. Ludza with its suburbs is famous for very clean environment.
Balvi
Small and very green town, near to Pskov region. It is situated between two lakes.
Kraslava
Small town Kraslava is famous for its suburbs. In Kraslava region is 273 lakes and it crosses the biggest river in Latvia – Daugava. From the main Kraslava attractions is Sun Mountain.
Hotels
Hotels, guest houses, apartments and other accommodation options in Balvi.
Hotels
Hotels, guest houses, apartments and other accommodation options in Kraslava.
Hotels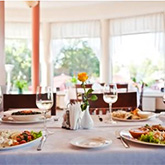 Hotels, guest houses, apartments and other accommodation options in Rezekne.
Hotels
Hotels, guest houses, apartments and other accommodation options in Ludza.
Rezekne Concert Hall
Rezekne Concert Hall was opened in 2013 year and this is one of the best cultural centers in Latvia. It has two acoustic concert halls – the big (4000 seats) and the small (1220 seats), as well as several conference-halls, restaurants, tourist center and others.
Ludza Crafts Centre
Here you can see the ancient hand tools and watch how masters work, as well as take part in different ancient crafts workshops. Also you can buy a souvenir – work of the master or visit a regular fair and green market.
Volkenberg Castle Ruins
Near the lake Raznas is a Makonkalns (Cloud mountain). In 13th century on its peak Livonian order built a Volkenberg castle. Today you can see its remained fragments and enjoy a beautiful sight on lakes Raznas and Ubagovas – "the bright eye of Latgale".
Farmstead "Untumi"
Near to highway Riga-Rezekne, in 4 km from Rezekne is a farm "Untumi", where you can ride horses, watch the storks using special optical instruments and have a picnic.
Ludza Medieval Castle Ruins
The castle was built by Livonian order in 14th century, between the Big and the Small Ludzene lake. From this point is a beautiful view on the Ludza town and here takes place annual Big Latgale Market. There are many beautiful legends about the castle that you can hear during the excursion.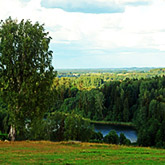 Sun Mountain
This is an ancient settlement and also one of the highest points in Latgale: hills height – 211 m above sea level. In pre-Christian times here was a cult construction of ancient Balts, where people converge on the feast of the summer solstice "Ligo."