Daugavpils is the second largest city in Latvia, with population of 116 000. It is located in 200 km from Riga on the border with Lithuania and Belarus. This is a very green city and its services quite meet modern standards. Here are built ice hall, bowling center and many others entertainment establishments. Great influences on the city development have had Russians and Jews, who were sent here in 18-19 centuries. Today the majority of local population are Russians.
Extra information
Tourist information center: Rigas iela 22a, Phone: +371 65 422 818
Infotainment Daugavpils website
How to reach Daugavpils
By train Riga-Daugavpils (4 times a day). Travel time - 3 h 40 min. Schedule on railway website.
Mark Rothko Art Center
Mark Rothko – world-known artist, founder of abstract impressionism, was born in Daugavpils. Today in Daugavpils Fortress is situated art-center, dedicated to him. Here you can see originals of his works and know about his biography and art works.
Hotels
A cozy hotel that is situated in in the heart of the city. Not far from it are railway station and bus station, as well as the best city entertainment centers.
Daugavpils fortress (19th century) was built to defend city from Napoleon army. This is the only fortress in Baltic, which remained without any significant changes. Today here is situated art-center, dedicated to Mark Rothko.
Ice hall is opened all year and fully complies with European standards. Here are often held hockey and figure skating competitions as well as various ice shows.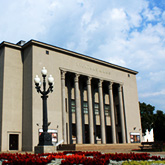 The theater was founded in the middle of the 19th century and this is the first theater in Latvia. Here are performances on Latvian and Russian languages, for all age groups.
The Russian House
Besides the excursion, during which you can know about Russians community culture, you may visit the Garden of Sculptures – "Fairy Courtyard". The garden relates to Russian folktales heroes and sculptures were by famous artist and sculptor – Pyotr Khudobchenok. His works were presented to such persons, as Pope John Paul II, Margaret Thatcher, Mikhail Gorbachev and George Bush. In addition, you can see other expositions – "Orthodox Faith in Latvia", "Paintings by Pyotr Khudobchenok" and "Gzhel Ceramics".