Valka is one of the six world cities with center at the state border. On Latvian side its Valka while on Estonian – Valga.
Smiltene is a city on the west Latvia near to highway Riga – Pskov. The town is interesting for its nature: lake Tepera, old park, Middle lake. In Smiltene suburbs in winter season are opened several ski tracks.
Extra information
Valka tourist information center: Rigas 22, Teл: +371 64 725 522, +371 26 446 602, tic@valka.lv
Smiltene tourist information center: Darza 3, Tел:+371 64 707 575, tourism@smiltene.lv
How to reach
From Riga to Valka three times a day is going a train (to Lugazi station). Schedule on Latvian railway website. Travel time- 3h 10мmin.
The best way of getting from the city is a bus; schedule on bus station website. Travel time - 3h 15min.
There are no train from Smiltene, so the only possible option is a bus from Riga. Travel time - 2h 40min.
By car: from Riga to Valka - 2 hours, to Smiltene - 1h 50min.
Smiltene Manor Ensemble
The first owner of the manor – governor-general of Vidzeme, but later its owners changed several times. This manor is interesting for the ruins of a Livonian order castle and cheese house that was built in 18th century!
Valka-Lugaži Ev. Lutheran Church
The church was built in 15th century and then was rebuilt several times. In its tower is a viewing platform from which you can get a breathtaking view on two towns at once – Latvian Valka and Estonian Valga.
Hotels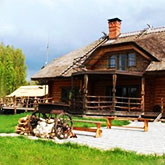 Hotels, guest houses, apartments and other accommodation options in Valka.
Hotels
ОHotels, guest houses, apartments and other accommodation options in Smiltene.