Despite its remoteness from Riga (67 km), Bauska region is one of the most popular destinations in Latvia. Here is situated one of the most famous architecture and historical Latvian monuments – Rundale castle.
Extra information
Tourist information center: Ratslaukums 1, Phone: +371 63 923 797
How to reach
By bus Riga-Bauska (every hour). Travel time - 1h 10min. Buses schedule.
Rundale Palace is situated 12 km from Bauska and can be reached by bus leaving every hour, or every hour and half from Bauska.
By car. Travel time - 1 hour.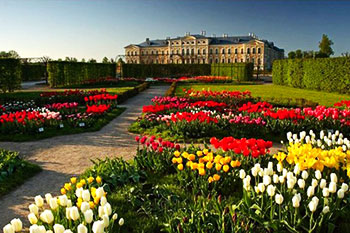 Rundale Palace was built in the middle of the 18th century as a summer residence of E. J. Biron – the minion of Russian Empress Anna Ioannovna. The palace was projected and personally supervised by famous architect Rastrelli (author of Winter palace in Saint Petersburg and The Big palace in Petergof). It is surrounded by the beautiful park with rose garden, fountains, green theatre and maze. In summer here is held "Garden festival".
Hotels
Hotels, guest houses, apartments and other accommodation options in Rundale.
Hotels
Hotels, guest houses, apartments and other accommodation options in Bauska.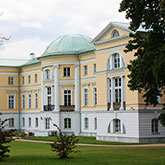 The palace was built in 18-19 centuries for duchess Charlotte von Liven – the governess of empress Catherine II grandchildrens. Now here is situated a hotel, made in classicism style as well as a palace itself.
Smithery "U&A"
During the excursion you can know about the process of metal calking, see how medieval weapons are made and try it, as well, as your skills in archery or ax and spear throwing.
Castle ensemble includes Livonian castle ruins (15th century) and residence of Kurzeme dukes (16th century). You can climb to the central viewing tower of the Livonian castle, which has an excellent panorama on Bauska.