Gulbene is located in 186 kilometers from Riga; city rights it gets in 1928. City blazon – silver swan floating on black background. Swan has become a city symbol because name Gulbene originates from Latvian word "gulbis" which means "swan". The firsts mention of Gulbene in chronicles dates to 1224 year.
Aluksne – the highest Latvian town – 200 meters above sea level. It was first mentioned in Pskov chronicles, as a city, named "Alyst" or "Volyst". As many other Latvian cities Aluksne for a long time was belonged to the Livonian order that built fortress and castle by the lake.
Extra information
Tourist information center:
Gulbene: Abelu 2, Phone: +371 64 497 729,turists@gulbene.lv
Aluksne: Pils 74, Phone: +371 64 322 804, +371 29 130 955, tic@aluksne.lv, aluksnesmuzejs@inbox.lv
How to reach
By car: Follow the A2 Riga- Pskov A2 motorway until the P27 Smiltene – Gulbene junction, turn towards Gulbene. Distance - 186 км. Travel time: from Riga to Gulbene - 2h 20 min. To Aluksne - 2h 30 min.
By train: Train Riga-Gulbene. Schedule on Latvian railway.
By bus: Bus schedule on Riga bus station. Travel time: to Gulbene - 3h 10min, to Aluksne - 3h 10min.
The only working narrow-gauge railway in Baltic (track gauge width – 750 mm, section length – 33 km). Today it's the railway for regular passenger transportation between two regional centers, they're use diesel locomotives of 60-80s of 20th century. The narrow gauge railway ("Banitis") offers an excursion in Gulbenes depot, trip on the locomotive or in a handcar and the show during this trip. On holidays here are organized special trips.
Complex of buildings which includes houses, riding hall, outbuildings, bakery and park. Up to 20th century it belonged to German barons von Wolf. Some building are reconstructed, there are situated hotel and concert hall.
Jaunlaicene Manor Ensemble
Another manor, that once belonged to the family von Wolf. It was built at the turn of 18-19 centuries. Unfortunately, from 33 buildings only half remained to the present day. Today inside the manor are organized different exhibitions and creative workshops. Also you can take part in different activities, for example, search for the treasures in manor park.
Hotels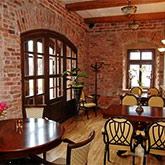 Hotels, guest houses, apartments and other accommodation options in Gulbene.
Hotels
Hotels, guest houses, apartments and other accommodation options in Aluksne.
The manor was built in 1820 and burned during the revolution of 1905. Later the manor was renovated in art nouveau style. In 19030 here lived famous Italian writer Giuseppe Tomasi di Lampedusa. Today here are organized excursions and various events, for example, theater performances. It's possible to rent manors rooms for celebrations.