Tartu is the second largest and the oldest city in Estonia. You can visit it on the way from Latvia to Talinn, but the city worth visiting itself; here are many historical and cultural monuments including the University of Tartu – the main city's landmark. This is one of the oldest universities on the Russian Empire territory.
Tartu map
View Larger Map
Extra information
Tourist information center: Raekoja plats 14, 51004 Tartu, Phone: +372 744 21 11, tartu@visitestonia.com
How to reach Tartu
Busses and suburban trains connect Tartu with Tallinn, Riga, Vilnius, and St. Petersburg, as well as with Estonian country towns.

International trips: Luxexpress, Ecolines Tartu bus station phone: +372 747 72 27

By car. Travel time: From Tallinn - 2h 15min, from Riga - 3h 10min.

<!--

google_ad_client = "ca-pub-1105019938261223";

/* Баннер 728х90 посередине страницы */

google_ad_slot = "8234982951";

google_ad_width = 728;

google_ad_height = 90;

//-->
The University was founded in the middle of the 17th century by the Swedish King Gustavus II Adolphus. The most famous is the main building, created by architect Johann Wilhelm Krause and built in 1804—1809. Today here is situated Art museum, where, besides the exhibits, you can try to make a plaster sculpture or paint a vase.
Hotels
Hotels, guest houses, apartments and other accommodation options in Tartu.
Here are presented collections of the most different toys: traditional Finno-Ugric, souvenir dolls of different nations, Artist-made toys, dolls from Estonian movies and theatres etc. In the museum are also workshop and playroom.
The science center AHHAA presents the science achievements, but not as a museum, but as a big entertainment center. Here you can ride in a "washing machine", see, how the chicks are hatching, watch a movie in 4D, visit a planetarium etc. Here also are held unusual exhibitions, for example, "Robots zoo" and are organized interesting performances, connected with scientific experiments.
Paper and Printing museum
In the museum are thematic exhibitions, where you can see paper sculptures, wooden and tin fonts, antique printing machines and watch the process of paper making. While in regular workshops you can learn to make cute notebooks, cards and other paper wares.
"Aura" center is a health complex, which has sauna, swimming pool and aqua park.
You can go skating in the shopping mall Lõunakeskus, where the ice rink is opened all year round and in the Tähtvere Recreational Park, but here ice rink works only in the winter season.
The best place for leisure activities is the Tähtvere Recreational Park. Here are jogging tracks, skate-park and ski slopes. You also can go skiing in Lähte, where are 5 tracks – 1 km, 1.25 m (with artificial snow), 2 km and 5 km.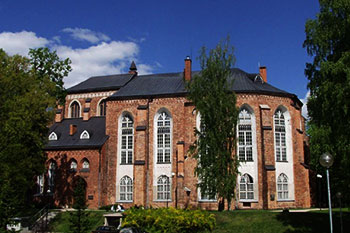 The museum is situated in the medieval building of the Dome. From 1806 to 1982 here was a university library, but today you can learn here its history. In the cathedral towers are viewing platforms and nearby is an English-style park – perfect for promenade.
The observatory
To learn more about the solar system and our planet is possible in the observatory in 21 km from Tartu. Except virtual planetarium and solar system miniature you can see here old computers and telescopes.
The planes that once were part of the private collection are now presented in the museum of aviation. You can see helicopters, passenger planes, training aircraft, as well as starfighters and bombers.