The most popular among tourists Estonian islands – Saaremaa and Muhu are lying in the Baltic sea, to the west of the continent.
Saaremaa – the biggest Estonian island with 36 000 population. Its capital and the only city is Kuressaare. Here is baked sweet and sour bread and brewed beer, in villages you still can see buildings, covered with a thatched roof, stone fences and windmills. The symbol of the island – juniper, from it is made souvenirs and tableware that give food a special flavor.
Also worth visiting the third largest Estonian island – Muhu that is a kind of ethnographic open-air museum.
Map
View Larger Map
Extra information
Tourist information center: Tallinna 2, 93813 Kuressaare, Phone: +372 453 31 20, kuressaare@visitestonia.com
How to reach
By ferry. The Muhu island has a regular ferry service with continent from port Virtsu. The ferry, which takes on board more than 150 cars and even more passengers, crosess Vyaynameri strait within 25 minutes. Ferry traffic schedule

By bus from Tallinn and other cities. Bus schedule

By car from Tallinn to Virtsu harbour. Travel time: from Tallinn - 2 h, from Riga - 3,5 h. Next is ferry (preferably to book your place in advance).

By plane from Tallinn to Kuressaare Airport (Saaremaa), whence to Muhu Island is 45 km. In summer there are flights from Stockholm. Kuressaare Airport website

<!--

google_ad_client = "ca-pub-1105019938261223";

/* Баннер 728х90 посередине страницы */

google_ad_slot = "8234982951";

google_ad_width = 728;

google_ad_height = 90;

//-->
Here you can see and feed the biggest flightless birds – African ostriches, South American – nandus and Australian emus. In the small shop are sold souvenirs, ostrich eggs, meat, leather, creams and oils. Also you can see on the farm kangaroos and ponies.
Hotels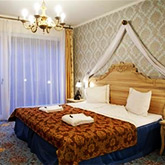 Hotels, guest houses, apartments and other accommodation options in Saaremaa.
Meteorite crater
In 18 km from Kuressaare is a 100-meters crater lake. The year of meteorite fall is still unknown, but in ancient times this lake with perfectly smooth edges was a place of sacrifice.
Kuressaare Episcopal castle
The gothic fortress of Kuressaare is one of the oldest in Baltics. Here is exposure of the Saaremaa museum, which feature island's history, its city and nature.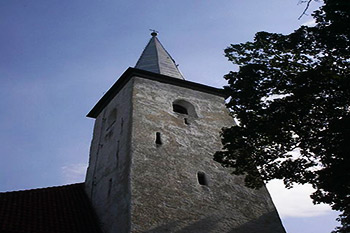 Sorve peninsula and beacon
The beacon is located on the peninsula Sõrve, at the inlet to the Irbene strait. This place is very popular among Latvian tourists, as from here you can observe coast of Latvia.
This is one of the oldest remained churches in Estonia. It was built in 1267 and is a great example of early Gothic style and Byzantine murals.