City in the North Estonia, between Narva and Tallinn. Rakvere was first mentioned in 13th century. Today Rakvere is very attractive for tourists and rapidly developing city. Here is held very popular international rock-festival «Green Christmas»; also every two years here is held theatre festival "Baltoscandal" which attract young film directors. Must-see city objects are central Square and Pikk Street on both sides of which are a lot of galleries, shops, cafes, workshops and sights.
Extra information
Tourist information center: Laada tn 14, Rakvere, Phone:(+372) 324 2734 rakvere@visitestonia.com
How to reach Rakvere
By train from Tallinn. Travel time - 1h 40min. Train schedule.
By bus. Estonian intercity buses.
By car. Travel time: from Tallinn - 1h 20min, from Riga - 4h 25min, from Saint Petersburg - 4 h.
<!--
google_ad_client = "ca-pub-1105019938261223";
/* Баннер 728х90 посередине страницы */
google_ad_slot = "8234982951";
google_ad_width = 728;
google_ad_height = 90;
//-->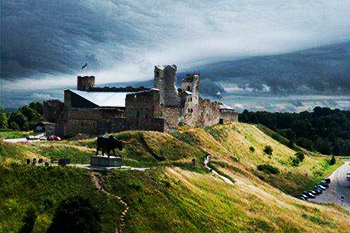 The castle's ruins
The stone castle was built on the spot of wooden fortress after Livonian war. Today you can see here exhibition of medieval weapons, try medieval dishes and learn some archery skills.
Hotels
Hotels, guest houses, apartments and other accommodation options in Rakvere.
Rakvere Theatre
Theater was opened in 1940, here are performances, both for adults and children. In addition, here also are café and cinema. In theatre are organized excursions, during which it's possible to visit the backstage.