Parnu is an internationally recognized resort. In 200 Parnu became a member of ESPA (European Sраs Association) and in 2001 Parnu beach was granted with European Blue flag.
Parnu became a resort in 1838. In the city is a big seaside park, a lot of hotels and sanatoriums, here are held festivals and cultural events. Also in Parnu are remained many historical, architectural and cultural monuments.
Parnu map
View Larger Map
Extra information
tourist information center: Ruutli 16, 80010 Parnu, Phone: +372 447 30 00, tourism@parnu.info, Parnu information phone (free) +372 441 70 17
How to reach Parnu
Bus lines connect Parnu with almost evey big Estonian cities.Bus schedules:
By plane. In summer from Parnu airport there are regular flights in Stockholm. Flight timetable.
By car. Within 2 hours by highway Via Baltica (Е67). You can get here from Tallinn (123 km - 1h 35min) and Riga (189 km - 2h 30min).
By train: between Parnu and Tallinn между Пярну и Таллинном there is a daily train service. Travel time - 2h 40min.
google_ad_client = "ca-pub-1105019938261223";
/* Баннер 728х90 посередине страницы */
google_ad_slot = "8234982951";
google_ad_width = 728;
google_ad_height = 90;
//-->
The Tallinn Gate
Built by swedes in 17th century, this majestic gate in baroque style is part of the former medieval fortifications system. Once it was a beginning of the postal road that leaded from Parnu to Tallinn, but now they lead to the Parnu beach area.
Hotels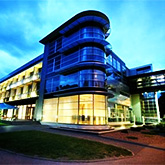 Hotels, guest houses, apartments and other accommodation options in Parnu.
The Red Tower
КThe Red tower is the oldest architectural monument of the city. It was a part of a defensive wall, built in 15th century. Today in its yard every summer is held Hanseatic fair.
Mini-zoo
The zoo is in the very center of Parnu. Here are exotic terrarium animals; some of them are even allowed to touch.
Elizabeth Church
The church was named after Russian empress Elizabeth and was sanctified in 1750. Here is one of the best organs in Estonia and are held concerts.
Seaside parks and promenade
In Parnu, near to the beach are several parks, perfect for promenades and picnics: waterfront park, with kids city and playgrounds, beautifully illuminated promenade with Estrada, playground and the highest fountain in Estonia and beach park, where is an avenue of sculptures, which are made by local and international artists.
One of the biggest railway museums in Europe offers a ride on the train during which is organized a picnic and is told the history of the railways. In the museum itself is exposure about technics and trains.
The castle ruins in Helm
Near to the highway Parnu – Valga are located ruins of the Livonian order castle, which was built in 14th century. Next to it is a spring which is believed to have a healing powers.