Palanga – the most famous and popular Lithuanian resort on the coast of the Baltic Sea. This is the main "competitor" of Latvian Jurmala, widely popular as in soviet times, as well as in present days. In Palanga nature cure itself: sated with iodine vapor, sea breath, restorative scent of pine trees, gentle sun, and soft sea sand are very beneficial for people who have contraindications against abrupt climate change.
Vacationing in Palanga is not only beneficial, but also interesting. Here are a lot of cafes and restaurants, children's amusements (in Palanga even is a street that's called "children's street"), swimming pools, SPA and different opportunities for active leisure.
Palanga map
View Larger Map
Extra information
Tourist information center: ул. Kretingos 1, Phone: +370 460 48 811, palangaturinfo@is.lt, info@palangatic.lt
Palanga tourist information website
"Балтия Вояж" - официальный представитель информационного центра по туризму Паланги в Москве.
How to reach Palanga
By bus: by international trips from Liepaja (1,5 h), Riga (5 h), Moscow, Kaliningrad.

Schedule of buses from Liepaja

by international trips from Vilnius, Kaunas, Siauliai. Travel time: from Vilnius - 4 h 30 min, from Kaunas - 4 hours, from Siauliai - 2 h 50 min. Lithuanian buses schedule

By shuttle bus from Klaipeda (25 km) and Kretinga (12 km), оevery 20 minutes. Travel time: from Klaipeda - 30 min, from Kretinga - 15 min.

In Palanga airport arrive planes from Moscow (in summer season), Billund, Oslo, Kristianstad, Berlin, Frankfurt, Hamburg. Palanga airport website

<!--

google_ad_client = "ca-pub-1105019938261223";

/* Баннер 728х90 посередине страницы */

google_ad_slot = "8234982951";

google_ad_width = 728;

google_ad_height = 90;

//-->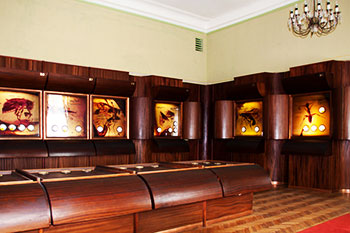 Amber museum is located in neo-Renaissancepalace, which was built by count Tyshkyavichus in 1897. Here are 15 rooms in which are exposed and stored about 28 000 amber items. During the excursion you can know about origin of amber and its kinds. On the road, which leads to museum, is placed one of the most famous Lithuanian sculptures – Egle – queen of snakes.
Hotels
Hotels, guest houses, apartments and other accommodation options in Palanga.
Horse riding
On the way from Palanga to Klaipeda is a stud farm. Here you can enjoy horse riding.
Botanic Park
The most popular place for rest and one of the most beautiful and groomed parks in Lithuania. It was founded in the late 19th by famous French landscape architect Eduard François André. Here grow more than 200 plants and shrubs. On the terrace of Amber museum, which is placed here, plays chamber orchestra, while in orangery are held exhibition of photographs, paintings and others art works.
Active rest
Near to the sea you can rent jet skis and bikes – right here are special places for riding them. Almost in every hotel or on the streets you can rent bicycles and rollers, for them are equipped special routs. For tennis in the city are 6 courts, while on the Y. Basanavicius street is a playground for mini golf.
Birute mountain
This is the highest point on the Palanga sea coast. In the old days on its peak Lithuanians kept the sacred fire. In 19th century on the mountain was built a chapel where today you can see stained glass made by Lithuanian artist L. Pocus.
J. Basanavicius street
J. Basanavicius street is central and the liveliest street in the city, which leads to the sea. On the street are usually held various events and on both its sides are many shops, cafes and restaurants.
The Pier
The pier was built in 19th century by count Tyshkevich, its length – 470 m. From here is beautiful view on the sea and here is arranged fireworks celebrating the opening of the season. After pier was destroyed by hurricane, it was rebuilt again.