Vilnius is the main Lithuanian city. The Old town of the Vilnius is the biggest in central Europe. The city with its romantic old atmosphere, houses with tiled roofs, narrow streets, surrounded by hills, is a real fairytale that you will probably remember.
Palanga is primarily famous as a scenic resort that stretched along the sea. Lithuanians call Palanga their summer capital. The history of the city goes back to the 10th century when it became a supporting point in the war against the Crusaders. In 18th century the city was known as a rich trade port which successfully competed with Klaipeda and Riga. Later Palanga became a favorite place of Lithuanian fishermen. In Lithuanian language Palanga means "The amber window overlooking the Baltic Sea".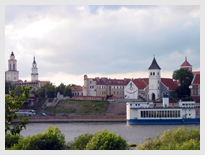 The port city in the Neman River. Today it's an important industrial and cultural center of Lithuania, with population about 415 thousand people.
Klaipeda is a big nonfreezing port on the Baltic Sea and the Curonian Lagoon. In the present days Klaipeda includes all the elements of a modern port city with gorgeous monuments. Here is located the Sea museum with dolphinarium, aquarium and others interesting branches.
In the southern Lithuania, about in 130 km from Vilnius and in 7 km from Lithuanian-Belarusian border is a famous Lithuanian resort Druskininkai. It's situated on the right shore of the Neman River and surrounded by the pine woods. To this the oldest Lithuanian resort every year arrive about 100,000 people for high-quality treatment.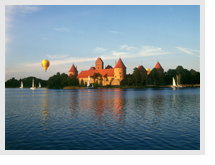 The true Lithuanian pearl. Trakai Island Castle is the only fortress on the water in the whole East Europe. It stands on the one of the numerous islands in Galve Lake.
Neringa is a peninsula that divides Curonian Lagoon from the Baltic Sea. The north and the biggest part of the Curonian Spit belongs to the Republic of Lithuania. Several small villages (including Nida) are united into the city Neringa.