Klaipeda is one of the most ancient cities of Lithuania. Archaeological researches show that Klaipeda was inhabited by Lithuanians ancestors – Balts in the first centuries of our era. Earlier the city has a name Memel and until 1525 had belonged to the knights of the Teutonic order.
Today city is the main harbor of Lithuania. Here is very well-developed tourist infrastructure and its beaches are as good as in Palanga.
Klaipeda map
View Larger Map
Extra information
Tourist information center:Tomo g. 2, Phone: +370 464 12 186, kltic@takas.lt
How to reach Klaipeda
By bus. Klaipeda bus station: Butku Juzes 9, Phone: +370 46 411547. Travel time: from Vilnius - 3 h 50 min, from Riga - 5 h.

International bus connections.

You can reach Klaipeda by ferry from Germany, Sweden or Denmark. Routs: Kiel – Klaipeda, Mukran – Klaipeda, Åhus – Klaipeda, Copenhagen – Klaipeda, Fredericia – Klaipeda.

Information about ferries to Klaipeda.

By car. Travel time: from vilnius - 3 h, from Riga - 3h 40 min.

<!--

google_ad_client = "ca-pub-1105019938261223";

/* Баннер 728х90 посередине страницы */

google_ad_slot = "8234982951";

google_ad_width = 728;

google_ad_height = 90;

//-->
The museum complex which includes Sea museum, aquarium, the museum of Neringa nature and dolphinarium. Here are exhibitions of a sea nature, the history of sailing, old and modern fishing, sea science. In the museum aquarium are fishes, sea mammals and birds. Also in the museum are large collections of corals and shells. In the open-air exhibition you can see models of ships of different centuries.
Hotels
Hotels, guest houses, apartments and other accommodation options in Klaipeda.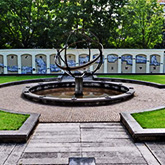 Clock museum
Here you can see various clocks from fire to quartz clock. The museum exhibition consists of three parts: the development of clocks construction, clocks, decorated with different styles, from baroque to modern and the sun clocks park.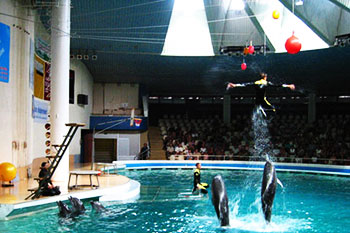 Shows with dolphins are very interesting, moreover, in Klaipeda you can see painting made by them. Also here "perform" seals. Performances are held the entire week, from 10.00 to 18.00, in the hall is 1000 seats. For kids and persons with disabilities are offered courses of dolphin therapy.
Pranas Domshaitis is a famous Lithuanian artist – expressionist. In the art gallery there are more than 500 of his works, as well as painting, sculpture and graphics from Russia, Baltic and East Europe. Here is also located cultural center of his behalf, where are held various concerts and exhibitions.