Druskininkai village even in the 16th century was famous for its mineral waters which worked miracles: reduced tiredness, cure injuries, skin rashes etc.
In the modern days Druskininkai is a SPA-resort of European standard. Modern SPA-hotels offer high-quality stay for everyone, and for them who need to improve their health – water of different mineralization and moor mud, effective for healing various diseases.
Druskininkai map
View Larger Map
Extra information
Tourist information centers: Gardino 3, Phone: +370 313 60 800, Сiurlionio 65, Phone: +370 313 51 777, information@druskininkai.lt
Druskininkai tourist information website
Официальным представителем информационного центра по туризму Друскининкая в Москве является туроператор "Балтия Вояж".
How to reach Druskininkai
Direct bus routes connect Druskininkai all large cities of Lithuania. There are direct rout from Warsaw.

International bus connections.

By car: after border crossing between Lithuania and Poland in the area of Lazdijai to Druskininkai is 60 km; at the border with Belarus, by Raigardas - 10 km. International highway via Baltica stretched from Tallinn to Warsaw across Latvia and Lithuania. In Lithuania, it passes through Siauliai where to Druskininkai is about 80 km.

Traveling by car takes: from Vilnius - 1 h 40 min, from Riga - 4 h 50м min, from Warsaw - 4 h 5 min.

<!--

google_ad_client = "ca-pub-1105019938261223";

/* Баннер 728х90 посередине страницы */

google_ad_slot = "8234982951";

google_ad_width = 728;

google_ad_height = 90;

//-->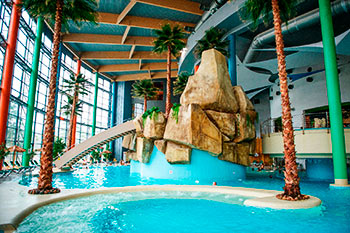 This is one of the biggest aquaparks in Europe. Here are pools, rough river, whirlpools, waterfalls, massage waterfalls, pool with sea waves, rides, beaches and islands for relaxation. And, of course, rapid slides with total length of over 600 m. For children there is children's pool with a complex of amusements. On the aquapark territory also are hotel, bowling and night club.
Aquapark "Grand Spa Lietuva"
In Druskininkai is another aquapark – in the hotel "Grand Spa Lietuva" complex. It's not as big as the "Aqua", but has the same high quality. Here, apart from usual pools, are "mountain river", children's pool and pool with waves, whirlpools, water slides, waterfalls, 5 different saunas and funny showers. Also here are special pools with mineral waters and massages, because this aquapark is included in health complex.
Hotels
Hotels, guest houses, apartments and other accommodation options in Druskininkai.
National park Dzukija
The biggest park in Lithuania is located near to Druskininkai. Here are grow and dwell more than 140 animal and plant species that are listed as endangered.
Snow Arena is an indoor complex of winter activities with artificial snow slide. Here are 3 slides: all-season (460 m), seasonal (640 m) and slide for kids and beginners (150 m). The complex is opened all year round. Here you can go skiing, skating and snowboarding and then drink tea in snowy restaurant and enjoy massage.
The Memorial Museum of M. K. Ciurlionis
Museum was opened in 1963, in the house of parents of Lithuanian artist and composer Mikalojus Konstantinas Ciurlionis. Here he lived and worked in 1896-1910. Museum exhibitions represent Ciurlionis biography and art, while in reading rooms is collected all literature connected with him.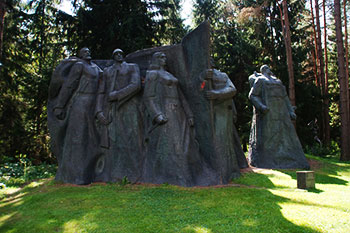 In the park are gathered dismantled in 1989 soviet monuments from whole Lithuania and play soviet music.